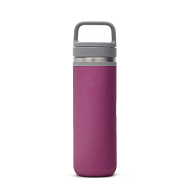 We don't want to alarm anyone, but we think we've created the perfect travel mug. Don't believe us? What if we told you that it's completely leakproof and double-walled, to keep your tea piping hot for hours on end. Or that it has a removable fine mesh infuser, plus a strainer to keep tea leaves out of every sip. Did we mention the easy-carry lid, or the hidden tea compartment? How about the big 16 oz size? Yeah. We told you it was perfect. Designed in-house and made exclusively for DAVIDsTEA.
Capacity: 16 oz/473 ml
Edit info Last updated by Daddyselephant
Currently unavailable
We don't know when or if this item will be available.