Willard House & Clock Museum
www.willardhouse.org
Hours: Wednesday-Saturday 10:00 a.m. – 4:00 p.m.
Sunday: 1:00 p.m. – 4:00 p.m. or by appointment
Closed: Monday & Tuesdays and major holidays
(508) 839-3500
11 Willard Street
North Grafton, MA 01536
______________________________
I was fortunate to experience an Iced Tea Social at Willard House & Clock Museum this past Saturday. The museum offers tea events in the Main Gallery of the museum and reservation is to be made if wanting to attend.
I phoned and reserved my spot for this activity, as it was a first for me. I was not sure what to expect socially, I mean. Anyhow, the idea was to spend a quiet, relaxing summer afternoon with a tall glass of iced tea and period refreshments.
I got there just in time and was greeted by the museum director Meredith, who insisted I sit at the front table where some ladies were already seated and having their teas and socializing. The ladies all seem to know each other from The Grafton Senior Center. Their table had one seat left and so it became mine.
I sat down and introduced myself and the ladies did the same (Annette, Barbara, Judith & Pauline [Paula]). At least this was my recollection of their names…after making some comments on how I remember things which at times is annoying.
Meredith came over to ask me which tea would I take; sweetened black tea, unsweetened or green tea? I selected the Green Iced Tea. She returned with a tall glass filled with iced and tea. It looked more like lemonade upon sight but when I tasted it there was no tartness as lemonade would have. It was green tea, sweetened and there in the background lingered some other notes that I could not discern…not mint either.
It was nice tea and I kept wondering if it was powdered tea or cooked tea than made into iced tea. I forgot or never got a chance to ask. They had said when I made the reservation a menu of sort might be provided but nothing was handed out.
I sampled some of the small desserts/refreshments they offered: small bite size peach cobbler, Danish, tart, and there was a bowl of fruit salad with blueberry sauce to pass around but I sampled only the desserts and had none of the fruit salad.
Behind us, there was another table with several ladies and I kept turning around to speak with them and not to be rude I said, in seeing the back of someone's head. Perhaps best, with the way I look. That table had two seats remaining and much later on another couple arrived and was seated with those ladies. And of course I had to think of my father-in-law for some reason.
In all the experience was lovely. A tour of the museum was offered and we were broken up into several groups and we got to learn about this family of clock makers, who originally were shoe makers (shoe cobblers) I prefer this term best. It seems that Benjamin Willard traveled to Connecticut where he learned about making clocks and when he returned to Grafton, he opted to devote his time to the making of clocks. In his lifetime he received three patents. His most famous clock is The Time Measurement Piece which we all know as the Banjo Clock.
The tour ended in the museum gift shop where I purchased a couple of small items; I had eyed during an earlier visit.
This museum is a lovely place and setting for having teas and social gathering. I am thankful for finally being able to attend a social tea event. Thank you!
Willard House & Clock Museum Edit
| | |
| --- | --- |
| Style | Other |
| Serves | Iced |
| Food | Snacks, Pastries |
| Features | Afternoon tea, High tea |
| Good For | Groups |
Hours
Wed

–

Sat
10:00

AM

–

4:00

PM

Sunday
1:00

PM

–

4:00

PM
Have more info about this place? Add It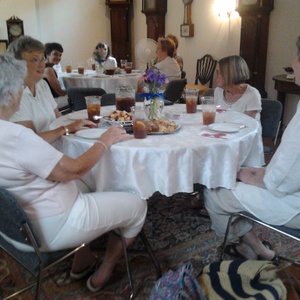 Photo submitted by
ms.aineecbeland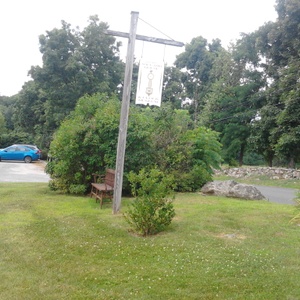 Photo submitted by
ms.aineecbeland
11 Willard Street
North Grafton, MA
(508) 839-3500