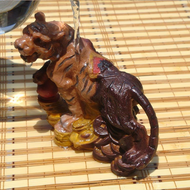 This tiger tea pet is made from resin and changes colors when hot water or tea is poured onto it. At room temperature it is dark mahogany and it immediately becomes lifelike colors as hot water meets it. It will slowly change back to dark brown as it cools.
Edit info Last updated by Cameron B.
Currently unavailable
We don't know when or if this item will be available.