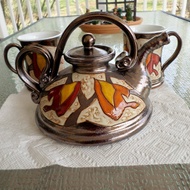 This piece is thrown on the wheel in stoneware in three pieces, the handle is added to the lid, and the spout is attached.
Our ceramic teapot is hand-brushed with food-safe, colorful glazes with Autumn decoration.
Each piece of our pottery teapot is handmade entirely by the hand of the craftsman who has manufactured it.
Edit info Last updated by K S
Currently unavailable
We don't know when or if this item will be available.