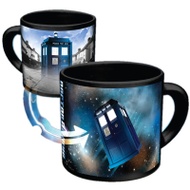 From Who to Eternity!
Remember when the tenth Doctor first arrived on the scene? All he needed was a good cup of tea to really get going. And once some hot liquids got into him (well, into the TARDIS . . . well, into the Doctor's lungs . . . well . . . ), he was really able to strut his stuff. And now you can too, with this awesome Doctor Who Heat Changing TARDIS Mug.
See, the TARDIS starts in London, resting calmly on a city street. All you need to do is add hot liquids (such as tea), and the TARDIS disappears (sound effects not included) and reappears on the other side in deep space. Where is the Doctor heading? Could be anywhere – but the important thing is, you'll get to tag along so long as you hold on to your mug. The Heat Changing TARDIS Mug reminds you that even a simple drink can begin an adventure.
Heat Changing TARDIS Mug
- A Doctor Who mug full of wonder and temporal-bending-sub-atomic-magic-um-stuff.
- The TARDIS sits calmly on a London street until you add hot liquids; then it disappears and reappears on the other side of the mug – in outer space.
- Mug holds 12oz of delicious liquids.
- Hand wash only. Your dishwasher will melt the design off.
- Dimensions: approx. 3.75" diameter x 3.75" tall
Edit info Last updated by jump62359
Currently unavailable
We don't know when or if this item will be available.