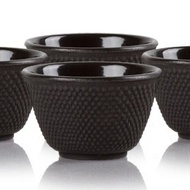 From sipping traditional senchas to trying the boldest new flavours, nothing beats classic cast iron cups. As elegant as they are durable, these little teacups are expertly crafted by the renowned Iwachu company in Morioka, Japan. They're lined with baked porcelain enamel and embellished with a simple and stunning hailstone pattern, so they pair perfectly with any of our cast iron pots. Domo arigato, Iwachu.
Edit info Last updated by Daniel Scott
Currently unavailable
We don't know when or if this item will be available.