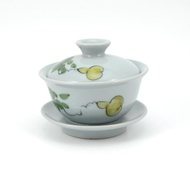 A geyao glazed gaiwan with a painted gourd and vine motif. This glaze will crackle and craze with use, leaving a visual history of the teas you drink behind.
Dimensions: 9.5cm X 8cm
Weight: 250g
H20 Capacity: 100ml
Edit info Last updated by Roswell Strange
Currently unavailable
We don't know when or if this item will be available.