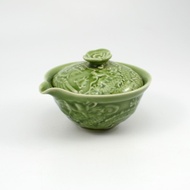 A huoci glaze shiboridashi (similar to a gaiwan) with a phoenix and dragon motif and a flower on the interior. Quite a unique piece of teaware to decorate any tea tray.
Dimensions: 9cm X 9cm
Weight: 200g
H20 Capacity: 85m
Edit info Last updated by TeaNecromancer
Currently unavailable
We don't know when or if this item will be available.