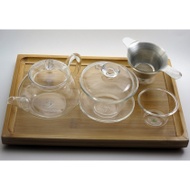 A great way to get started enjoying amazing Chinese tea in the way it was traditionally brewed by yourself or with one more person. Brewing multiple short steepings with this set is simple, fun and makes amazing tea. This tea set includes everything you need to get started experiencing tea like never before.
View the tea set: http://www.teasetter.com/starter-tea-set-3/deluxe-starter-tea-set
The following items are included:
-Glass Teapot (10oz)
-Glass Gaiwan (5oz)
-2 Glass Cups (2oz)
-Metal Strainer
-Bamboo Tray
-Tea Setter Sample Pack – 8 gram samples of our 3 Pu-erh and 3 Oolong teas. Enough for 12 tea experiences.
-15% Off Coupon for your first purchase of tea.
Getting Started Instructions (video and written)
Edit info Last updated by Jason
Currently unavailable
We don't know when or if this item will be available.