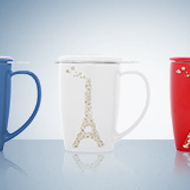 Kusmi Tea revisite à travers le French Mug la Tour Eiffel, symbole incontournable de la ville de Paris où la marque s'est installée en 1917. Cette tisanière Forlife, créée par le designer japonais Masa Fujii et disponible en bleu, blanc ou rouge est pourvue d'un filtre en acier inoxydable extrafin. Elle permet de préparer facilement tous types de thés. Son couvercle garde le thé chaud et sert de repose-filtre après utilisation.

The French mug so that tea lovers can fully enjoy Kusmi Tea's best creations. The French Mug is complete with an extra fine 0.3mm infuser and lid, is designed for simple and clean way of brewing just one fresh cup of tea in your own cup. The lid helps maintaining tea temperature and can also be used as infuser holder. Dishwasher-safe and microwave-safe (except infuser).
Edit info Last updated by Lili
Currently unavailable
We don't know when or if this item will be available.