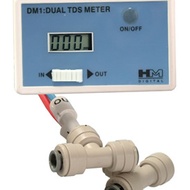 "Measure the tap water coming in vs. the purified water going out of your water filtration system at any time.
FEATURES
•Displays TDS levels of the feed water and product water with in & out electrode probes.
•Highly efficient and accurate due to its advanced microprocessor technology.
•Auto-Off function conserves battery power. The unit shuts off automatically after 10 minutes of non-use.
•Dual Range 0-9990 ppm (From 0 – 999 ppm the resolution is 1 ppm. From 1000 to 9990 ppm, the resolution is 10 ppm, indicated by a blinking 'x10' image.)
•Factory Calibrated: our meters are calibrated with a 342 ppm NaCl solution. Meters can be recalibrated with a mini-screwdriver.
•Comes equipped with Mur-lok® Quick-Connect T-fittings.
•Installs quickly and easily."
- http://www.tdsmeter.com/products/dm1.html
- https://www.afwfilters.com/tds-meters/hm-digital-dm-1-in-line-dual-tds-monitor-625.html
Edit info Last updated by looseTman
Currently unavailable
We don't know when or if this item will be available.