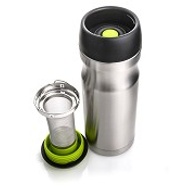 14 oz with removable mesh basket.
Info from http://www.nmteaco.com/teamo.html
Comes with a fine mesh filter that locks inside the mug so you can brew your tea or Mate right in the mug. You can either put the tea under the filter if you like to leave it in while you drink, or put the tea in the basket and remove when brewed before drinking.
Push button open and close lid enables safe travel of your tea in the car or backpack.
The TEAmo is a vacuum thermal mug, and will keep your tea hot up to 6 hours!
Edit info Last updated by Chai Kaimera
Currently unavailable
We don't know when or if this item will be available.