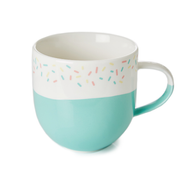 Pure and simple
Looking to upgrade your teatime? You're in luck – this might just be the perfect tea cup. With its clean lines and modern design, this elegant teacups is an instant classic. And since it's made of high quality porcelain, it's built to last a lifetime. The perfect match for our Simplicity Teapot! There, wasn't that simple?
Capacity: 15 oz / 443 mL.
Hand wash only with mild detergent. Not diswasher safe.
Do not use abrasive sponges.
Do not soak.
Not microwave safe.
Edit info Last updated by Alchemist's Fire
Currently unavailable
We don't know when or if this item will be available.