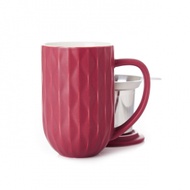 We think good design is a big part of great taste. Our favorite teas taste even better out of a good looking cup. Which is why we created this elegantly simple everyday mug. We wanted it to be clean, modern and sturdy. To hold a lot of tea without feeling clunky or oversized.
And we like to think we nailed it. With a stainless steel infused and a lid that doubles as a saucer, this one is all in good taste.
Edit info Last updated by DrowningMySorrows
Currently unavailable
We don't know when or if this item will be available.