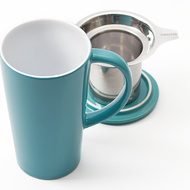 So what makes this mug so perfect? It comes with a fine stainless steel infuser that fits right into it. Plus it has a lid, the ultimate tea-steeping accessory. Lids keep all the aroma and heat in the cup, for an even better tea experience. And when you're done steeping, just use the lid as a little plate for the infuser – how perfect is that?
And now your favourite mug comes in a bigger size, so there's more to love. Dishwasher safe. Microwave safe, except for metal infuser. (16oz / 475 ml).
Edit info Last updated by Jason
Currently unavailable
We don't know when or if this item will be available.