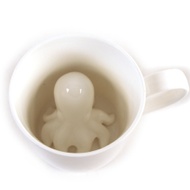 Terrifying Tentacles In Your Cup! A team of scientists has just recently discovered a new species of cephalopod, the mug-dwelling octopus. This tentacled, porcelain mollusk prefers the cozy confines of a simple coffee mug to the vast depths of the ocean.
3-1/4" (8.3 cm) tall.
Porcelain.
Great for coffee, tea or ramen noodles!
Microwave and dishwasher safe.
Edit info Last updated by TeaNecromancer
Currently unavailable
We don't know when or if this item will be available.