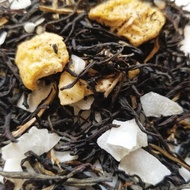 Anne's Gone Bananas . . . and Maybe a Little (Coco)nuts Too!
by

52teas
Tea type

Ingredients

Not available

Flavors

Banana, Coconut, banana, Malt, Sweet, Vanilla

Sold in

Bulk, Loose Leaf

Caffeine

Not available

Certification

Not available
Edit tea info Last updated by CrowKettle
Average preparation
205 °F / 96 °C
2 min, 45 sec
18 oz / 532 ml
Currently unavailable
We don't know when or if this item will be available.