I've been in this shop once before, years ago, but never got up the nerve to ask to buy any of the tea from the imposing wall of canisters. It was at the beginning on my tea journey and aside from going in and ooh-ing and ahh-ing over the teapots on display (mainly the prices. Yikes), I hightailed it out of there relatively quickly since it was rather imposing with all those giant tins of tea on the wall. (I wonder what the turnaround for the tea inside is?)
Today when I went to Chinatown, I went in with the intent to buy tea. Alot of it was just generically labeled like Puerh and Jasmine, and the clerk spoke very little English. When I asked her if I was able to buy smaller amounts than the pound price listed, I got the equivalent of a confused head tilt where someone's listening, but not comprehending what you're saying. She was still very nice and I understand that their clientele is majorly Chinese, so the need for knowing English likely isn't that necessary. But it still would've been nice to have some understanding. I had to repeat myself a few times and finally she understood when I made the 'little' gesture of putting your fingers close together before gesturing to the tea. Then as we were figuring it out an older Chinese lady came out from the back to get into the mix. Thankfully she spoke better English and was able to clarify that they sell in 2oz/4oz/6oz amounts and that it's cash up to $10, but then she left and I was stuck with the original clerk. Oh well.
I ended up choosing the Keemun (2ozish for about $4ish) and the Yunnan (2ozish for about $3ish) that they had on the wall since I figured that would be the safest bet to try. I was considering an oolong, but they all had the generic names and nothing sounded familiar to me. I would've liked to smell/look at the tea first, especially the oolongs so I could figure out which was green and which not, but with the language barrier there I wasn't comfortable trying to explain that.
I can say that I was pretty disappointed in the packaging that I got. I know, I'm probly spoiled with the nifty zip lock type pouches that most tea companies use. But the tea was put in rather thin white paper bags, then in an equally thin plastic bag that was then heat sealed, which seemed like a joke to me since that's not going to do anything for the tea overall. I got the feeling that it was a 'We have this machine, better make sure we use it' sort of thing. I ended up rebagging both into zip locks then putting them into tins for the time being.
There was a gong fu setup in the back which was neat, but I'd bet was for special occasions/maybe specific appointments. And the displays of tins/opposite wall of herbals were interesting to look at. There was also a small counter area where I guess you could have a cup of tea made, but since I didn't take more than a cursory glance at it, I couldn't say more about it other than it was there.
Next time I'm in Chinatown, if the two teas I got turn out good enough that I'd want more, I'll definitely stop and pick some more up, since the price was pretty good. Otherwise, loose tea is all I'd likely ever stop for since the teapots/teaware were far too pricey for me and I really have no interest in the ginseng/herbal part of the store.
TenRen Tea Chicago Edit
| | |
| --- | --- |
| Type | Tea Shop |
| Style | Asian |
| Serves | Loose-leaf, Bagged |
| Food | Snacks |
| Features | Tastings |
Hours
Mon

–

Sun
9:30

AM

–

7:00

PM
Have more info about this place? Add It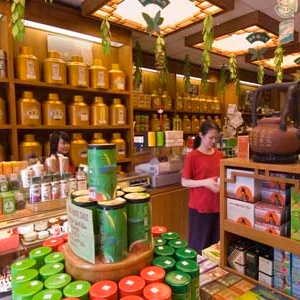 Photo submitted by
Rob Yaple
2247 S. Wentworth Ave.
Chicago, Illinois
312.842.1171