TenRen is a small shop that has a wide variety of teas ranging from boxes of their top sellers to giant tins of bulk loose-leaf. The large tins of tea (seen in the photo) appealed to me most, and when I stopped by, I purchased small samples of a few kinds. You can also purchase tea by the cup to drink right there if you can't wait to take it home or want to try something before you buy 14 pounds of it. In addition to tea, they have a wide variety of ginseng and other traditional herbal remedy type stuff.
I plan on stopping by again in the future to try some others, but so far I can say that I tried a roasted "Ti kuan yin" as well as a roasted "Tung ting" and a cooked pu-erh. The pu-erh was so-so but both of the oolongs had that
great
roasted/fruity flavor that is characteristic of good roasted oolongs. For each type of tea, they had several different versions in different canisters. Mostly differences in quality and uniformity of the leaves I would guess, but I am looking forward to sampling a few of the different Ti Kuan Yins side by side. If you ever find yourself in or around Chinatown, make sure to stop by TenRen!
TenRen Tea Chicago Edit
| | |
| --- | --- |
| Type | Tea Shop |
| Style | Asian |
| Serves | Loose-leaf, Bagged |
| Food | Snacks |
| Features | Tastings |
Hours
Mon

–

Sun
9:30

AM

–

7:00

PM
Have more info about this place? Add It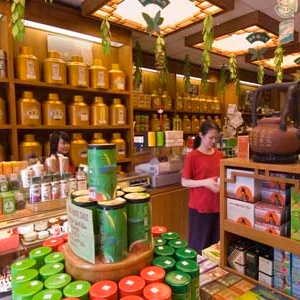 Photo submitted by
Rob Yaple
2247 S. Wentworth Ave.
Chicago, Illinois
312.842.1171