Honey
rated this place and said
I stumbled across Teadrops as a tourist exploring the Westport area in Kansas City. It is part of a nice shopping area in what appears to be a young and hip neighborhood that is only a couple of miles away from Kansas University. I gave it 4/5 stars because the floor was extremely sticky where I was sitting, and the display area had local papers and advertisements scattered about instead of a teapot and cup selection.
In terms of service, the woman behind the counter was very nice and had a great sense of humor. Despite being there alone and having a constant stream of customers, she was still friendly and fast with getting orders. However, the less tea savvy consumer may not have known when to remove tea bags from the tea, as this establishment doesn't appear to hand out sand timers or anything that can help you keep track of how long the tea has been steeping, which can be a big problem for some teas that become very bitter if oversteeped. The woman was probably so busy she didn't realize to tell me when to remove or even if to remove my teabag, which could confuse those who don't know about loose leaf teas.
Most of the customers coming in and out of here got bubble teas, and very few seemed to be interested in the loose-leaf teas, which gave me the impression that this place stays afloat mainly by catering to sweet, shake-loving customers. I have no doubt these boba teas are delicious to some, but that's not really my cup of tea. However, this may cause their tea to be less fresh/more stale since there is not enough turnover. Plus, it appears that they do not sell tea online, which is disappointing since I have fallen in love with some of the teas I purchased and brought back home with me to Minnesota. They have a larger selection in store than they advertise online, and there is also an area where you can sniff some samples of loose leaf tea before deciding what you want. They sell tea in 1oz increments. They also have cute cupcakes that they switch up each day, some of which are made with tea. I saw some green tea, cappuccino, red velvet, chocolate, and vanilla cupcakes for $2.50 (which they make fresh the night before) and they sell day old ones for $1.50.
Teadrops Edit
| | |
| --- | --- |
| Type | Tea Room |
| Style | Modern |
| Serves | Chai, Iced, Bubble, Loose-leaf |
| Food | Snacks |
| Features | Free wi-fi |
| Good For | Dates |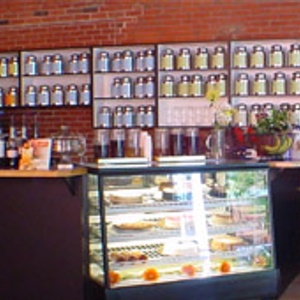 Photo submitted by
Ross Duff
4111 Pennsylvania
Kansas City, Missouri
816.531.9600